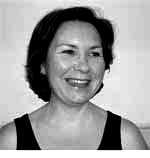 Mireille Gourbin Background
Selected Exhibitions
November 2007/January 2008 - Society of Designer Craftsmen Gallery, London.


January 2007 - Designers Crafts 2007, The Association of Designer Craftsmen, London.
My work is inspired by the love of colours and texture. I develop and explore textures and three-dimensional textiles through free machine embroidery, pleating and the creation of surface patterns. it's a sensual approach to textiles with a tactile feel, a surface pleasureable to the eye and appealing to the hand.

The identity of my work is about balancing design and craft skills towards contemporary three-dimensional projects pushing the limits of material and tools. My textiles are the results of building up layers with a transparency effect, revealing and hiding them, as we do with our emotions in life. In possessing my textiles and designs you will experiment the journey through your emotions. Through layers and texture, and with a particular attention to detail, I work towards the creation of a three-dimensional effect, which will bring a stronger visual impact and personalisation to a room. Lighting is a great conveyor through the transparency of layers, exposing texture in a very subtle and tactile manner.

"One-off" luxurious textiles and designs are a necessary indulgence in a world where globalisation tends to blend cultural differences. My textiles can transform basic elements such as lighting, screens, room dividers from functional items to three-dimensional living artworks.

Through my designs, I offer an exclusive way to apply textiles to interior spaces to private collectors, Boutique Hotels, interior designers and architects. As a result of my previous professional experience in international sales in Telecoms, I am happy to work with corporate teams to develop an exclusive piece for the company reception or boardroom to enhance the corporate image and express the core values of the organisation in a beautiful tactile and unusual way. I am open to conceptual projects.
Education
2005 - "Developing Professional Practice" Course at the Cockpit Art Studios, London.


2003 - BA (Hons), 2.1 Class Textile Furnishing Design and Manufacture, London
Metropolitan University.
Selected for new designers 2003, for her work inspired from crystalline structures.


2001 - City and Guilds - 7802. : Creative Skills Certificate - Machine Embroidery.


2000 - Access Programme "Ornamental Textiles Pathway" - London College of Printing.


1992 - International Trade Management Degree (7 month course) CESI, Paris, France.


1982 - International Trade Research Degree (MA equivalent), Institut d'Etudes des Relations Internationales, Paris, France.


1997 - Baccalaureate, specialised in Economics (A Level equivalent) - Grenoble, France.